20 healthy realistic resolutions you'll actually keep
Did you know that most resolutions are forgotten in a few weeks after the start of the new year? We tend to make our goals way too ambitious so we end up forgetting them. Need some new ideas? Here is my list of 25 healthy realistic resolutions you'll actually keep. The goal of a resolution is lasting positive change – it's not about making them so challenging that you don't keep them!
"You are the author of your own work + life story." Only YOU can make the changes that you want. Only YOU can do the work. Yes, life and work are crazy busy but with the right habits in place, you can make real progress. Four months ago, I decided that I needed some accountability when it came to exercise. I had a goal to get better at weight lifting and I have been wanting to learn more about mat pilates. So, I invested in myself. I hired a personal trainer and it has changed my life.
When I met Nancy the first time she asked me, "what are your goals?" We came up with solid, measurable goals and we talk about them at every session. This goal focused approached has really helped me stay consistent. Plus, we have so much fun. Seriously, exercise has to be fun!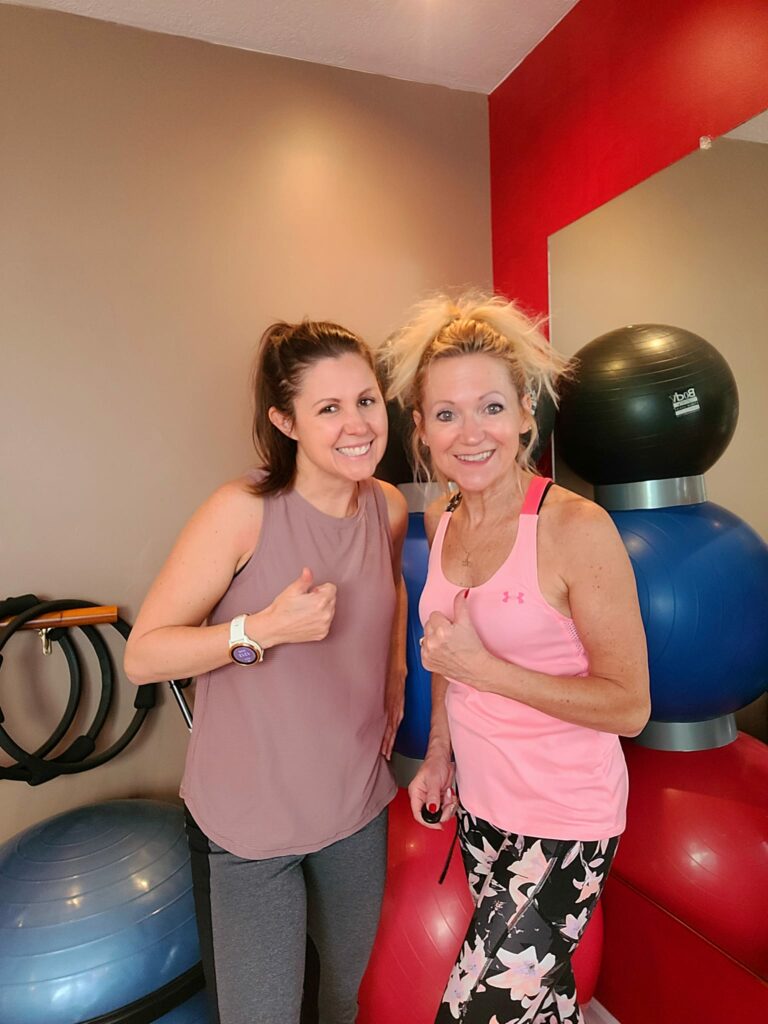 I go back and forth on whether New Year's resolutions are good or not. I love a good goal but I have learned over the years that they have to be realistic or I am setting myself up for failure. So, let's set some resolutions but let's keep them fun, manageable and inpsiring so we are still working on them well into 2023 – not just a few weeks after New Years Day!
Below are my 20 healthy realistic resolutions you'll actually keep:
Drink a glass of water as soon as you wake up 5 days a week – I bring a glass of water upstairs with me to bed and drink it as soon as I get up!
Add a new vegetable to your family weekly meal rotation once a month – I plan to ask my girls what new veggie they would like to try each month. This way, they have a say in the menu which increases the chances that they actually eat the veggie.
Keep a sugar log – I love sugar and it is in everything. I really want to continue to reduce my sugar consumption. My first step is to track it for a month and see how much I am really eating. Eek!
Make a list of your health goals for 2023 – you have to know what you really want before you go for it! Are they attainable? Are they measurable? What do you need to do to reach them?
Talk to your boss about what you want – How is your work/life balance? Do you have goals around this? If you don't take proactive steps, things will stay the same. There may be some small tweaks you could make at work to make the balance a bit better.
Send at least one handwritten note to a friend a month – I love receiving them so I am going to send them!
Increase your sleep hours – My goal is to add 1 hr a night to my average.
Decrease your time on social media – I took Facebook and Instagram off my phone. I was scrolling way too much!
Learn something new about health each month – the health field is always changing so I want to keep up on the current trends.
Lead 1 public speaking session this year – Public speaking kind of scares me to death but I want to challenge myself to do a speaking engagement this year. Face the fear.
Add 2 walking meetings a month – Instead of sitting at your desk all day, add some walking meetings with your team members. Nice outside? Walk with your coworker outside. Give it a try!
Write something creative once a month – For me, I have a goal to write a new blog post at least once a month – Blogging has been therapeutic for me. I love being creative.
Teach someone something every month – I want to teach my girls a new recipe each month.
Read 2 new books in 2023 – You grow by reading. You grow by learning new things. Check out Chris Flickinger's book!
Volunteer 5 hrs of my time a quarter to charity – I want to spend more time volunteering.
Buy a pedometer or smart watch and track your steps and heart rate – Out of all the technology in the world, step tracking is my favorite. Walking is an underrated form of exercise. If you want to work out more in 2023, start walking regular. Game changer. You don't have to run. Just walk. Often.
Create a baseline step count – Once you have a step counter, see how many steps you typically get a day. Watch it for a week or so and take an average. This is your baseline.
Increase your goal step count to 2K more a day – For example, if you average 3,000 steps a day, your new goal for the first quarter of 2023 is now 5,000 steps a day.
Find an accountability partner – This can be a personal trainer, a friend, your dog, me (pick me, please!). Studies show that people are more likely to reach their goals when they have someone else keeping them accountable.
Try a new recipe once a month – I have alot of recipes that we use on rotation – like this one for pancakes – but variety is fun. I want to try a new recipe each month and share it here on my blog.
Join my free Facebook group The Bee's Knees! I am taking new clients in the new year – schedule a 30-minute free breakthrough session and let's start working on your goals for the new year!