Recipe 1: Breakfast Porridge
The girls and I are spending some time at the beach but that doesn't mean that we have to eat out everyday. I love to cook on vacation and we took on the challenge to cook Andrea's Recipe 1: Breakfast Porridge and it was a hit!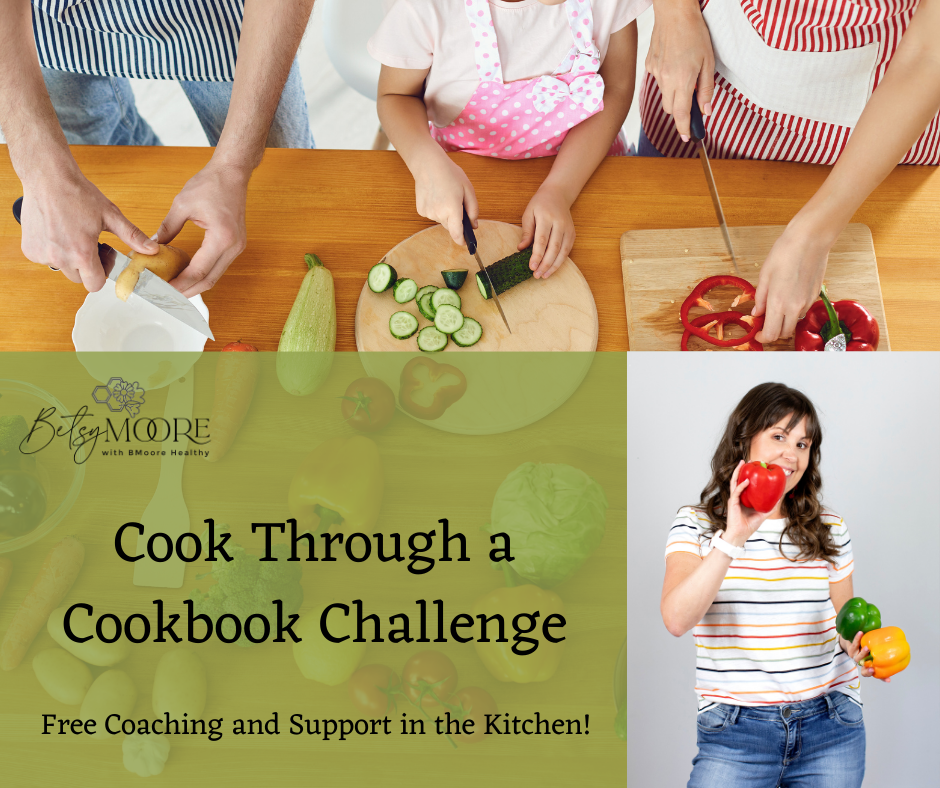 I brought Andrea's cookbook with us to the beach and the girls and I picked out the first recipe to try out one morning. My poor Madi broke her ankle so this beach trip looks a little different than usual but that is OK. We have been spending a lot of time shopping and cooking! We have a new appreciation for wheelchairs and love any store that has free ones that we can borrow! PS, did you all know that there is a Puravida store in Myrtle Beach? We are in love.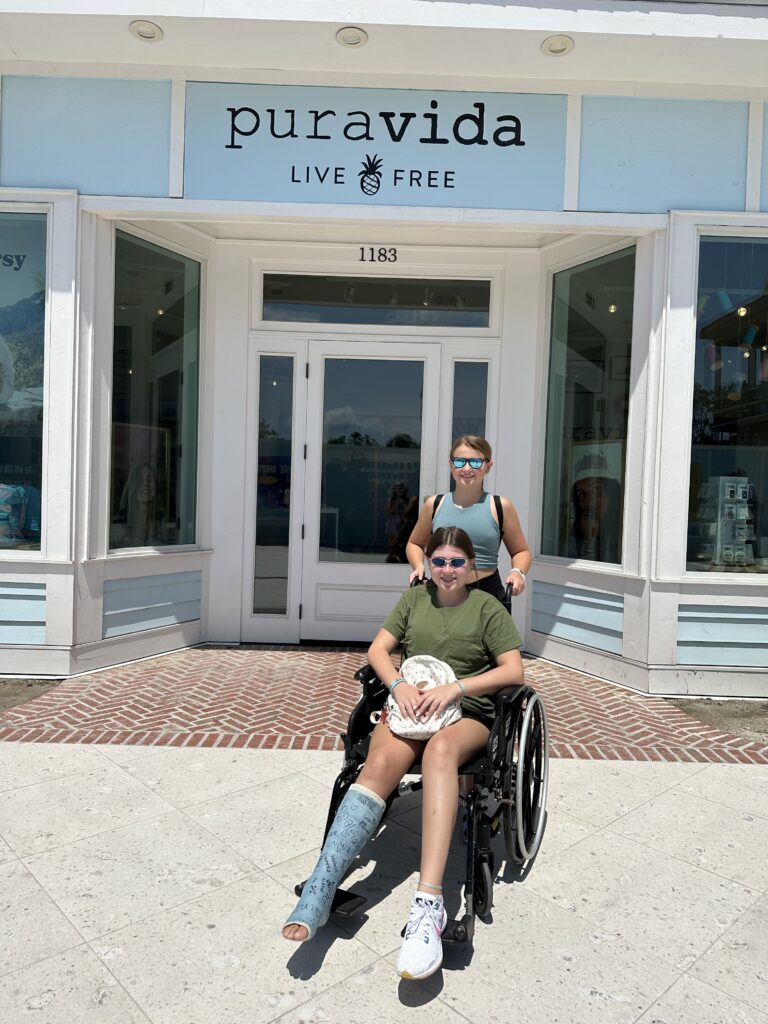 I cooked the rice in advance. Remember, whole grains should be soaked overnight. Soaking the rice allows for most of the phytic acid to be removed. Phytates (and phytic acid) are antioxidant compounds found in whole grains, legumes, nuts and seeds. The chief concern about phytates is that they can bind to certain dietary minerals including iron, zinc, manganese and, to a lesser extent calcium, and slow their absorption. Soak the rice in water for 24 hours at room temperature. Once soaking is done, wash thoroughly to prepare for cooking. I rinse the old water off and then add more water. Bring to a boil for about 30 minutes. Let cool then store the rice in the fridge for later use!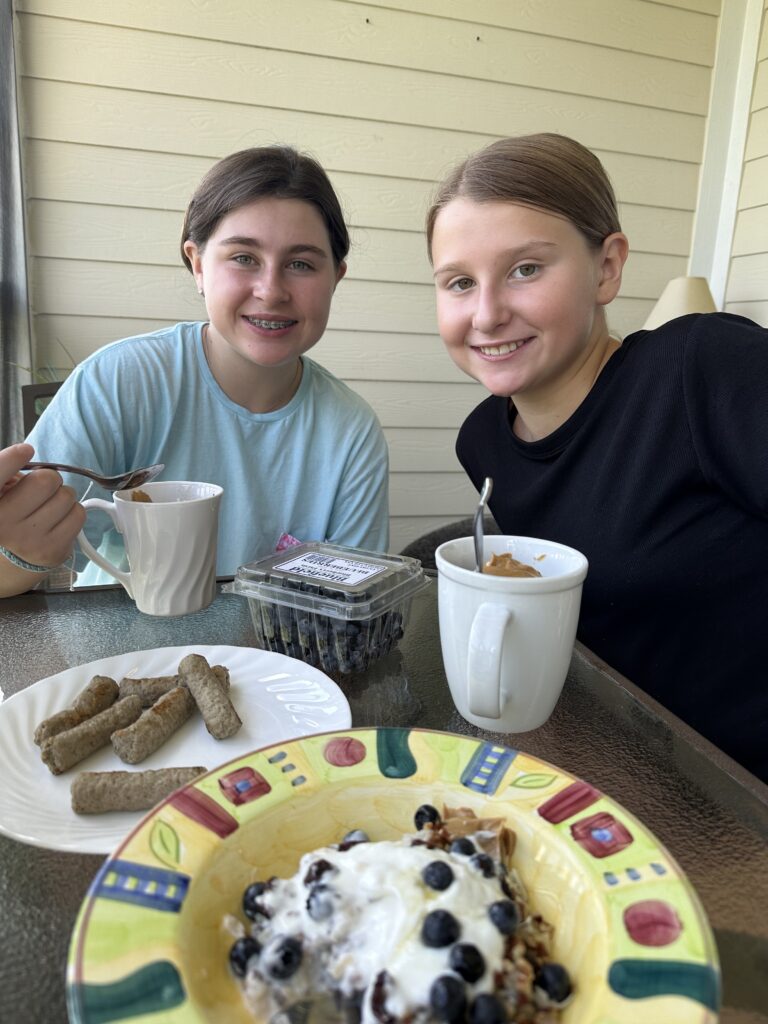 Julie and Julia – how about Betsy and Andrea!
My girls are getting into helping me with this cookbook challenge. My 10-year old, Juliana, pretty much made this entire recipe with a little help from mom. My 13-year old, Madilyn, filmed us and took pictures and created this awesome video on YouTube. Subscribe to my channel @BetsyMoore23. My girls are helping me build my YouTube fans and we would love to see the numbers grow!
Follow Andrea's recipe on page 80. I added a bit more rice because I was feeding myself and two hungry teens. We also added some vanilla and way more cinnamon because I LOVE the way it makes the house smell when it is cooking! I also created a bit of a toppings bar for the kids. This breakfast porridge was a hit and kept us full for hours! We got creative with the toppings. Remember, recipes are suggestions – get creative and make the recipe work for you and your family!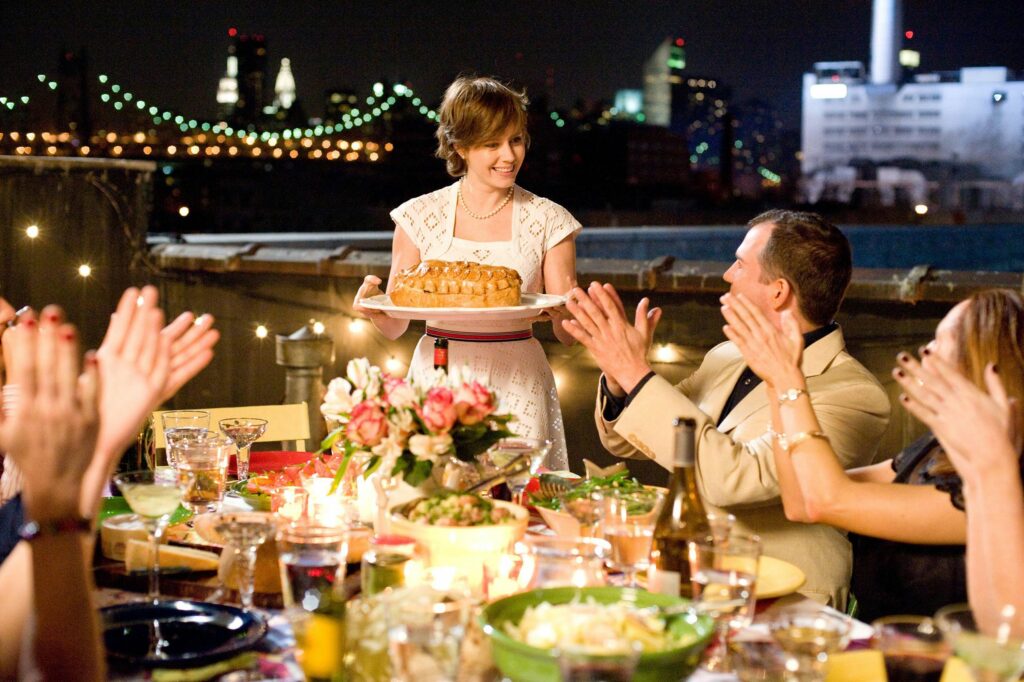 Keeping Track of Cooking Progress
One recipe complete and I have kept track of it in my spreadsheet.
Here's a screenshot of my spreadsheet. 😉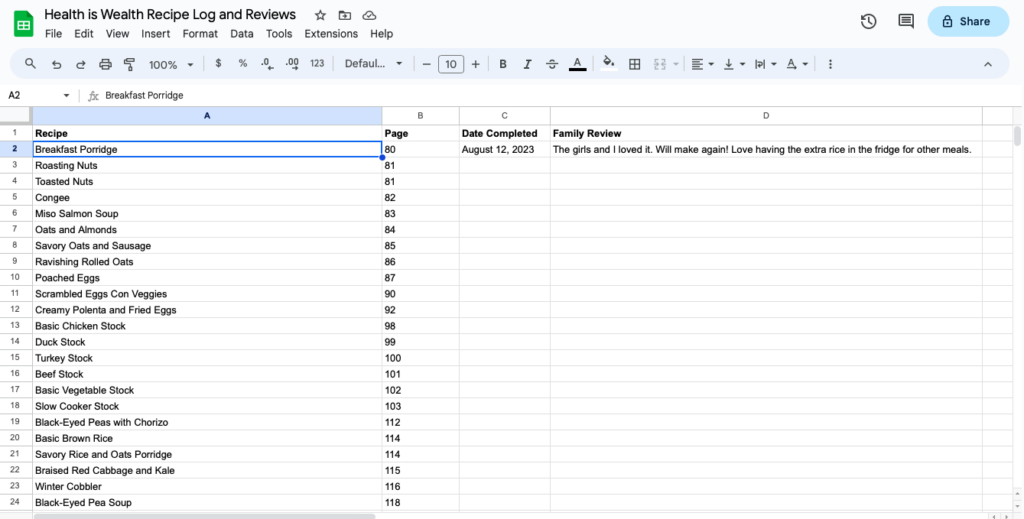 What do you typically have for breakfast? Would you consider making this Breakfast Porridge? Comment below.
If you're interested in joining the cookbook challenge, DO IT! Comment here and let me know you want to follow along with me. Make it fun for you, whatever that looks like. If you want to cook through a different cookbook, that is fine too. Let me know what cookbook you're cooking through, and I would love to keep up with your progress.
Have you ever tried cooking through a cookbook? Do you have any favorite cookbooks or where do you find new recipes?
Keep up with me elsewhere! You can find me on Instagram, Facebook and here on my Blog. Happy cooking!