Cook Through a Cookbook Challenge
A few weeks ago, my girls (Madilyn and Juliana) and I watched the fantastic film, Julie and Julia. If you are not familiar, this movie is about a young woman living in a tiny apartment who is struggling to find herself and her purpose who takes on the challenge of working through every recipe in Julia Child's cookbook, Mastering the Art of French Cooking.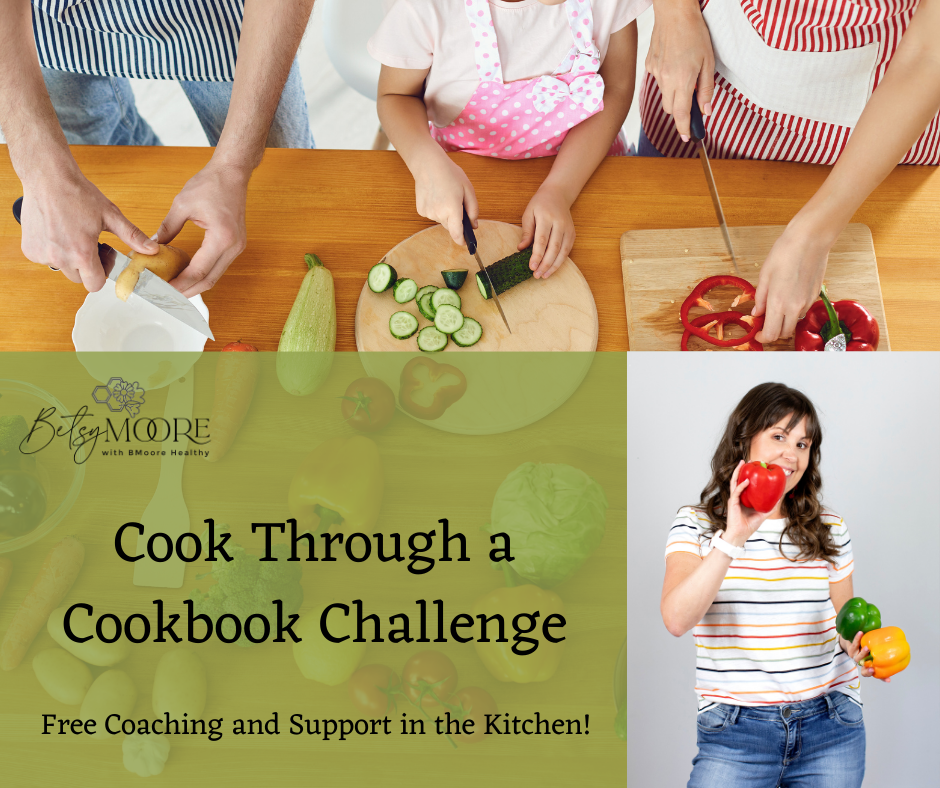 I am finding myself in a similar position. I am searching for more purpose and passion in my life at age 43. I have always loved cooking – it gives me a sense of accomplishment. However, cooking healthy is a task! Also, my oldest daughter just broke her ankle so we have plenty of time on our hands at home. Plus, as a health coach, I love experimenting with new foods and ideas in the kitchen!
I have been a huge fan of Andrea Beaman since 2009 when I had the pleasure of being a student at the Institute for Integrative Nutrition where Andrea was an instructor. I have cooked several of her recipes through the years but I have never made it through every single recipe.
The other night, I had the pleasure of sitting in a coaching session that talked about the importance of eliminating and managing clutter in our environment and how it impacts our health – both mentally and physically. So, I may be admitting right here and now that I have a bit of a cookbook hoarding problem. Now what? Let's start using these cookbooks!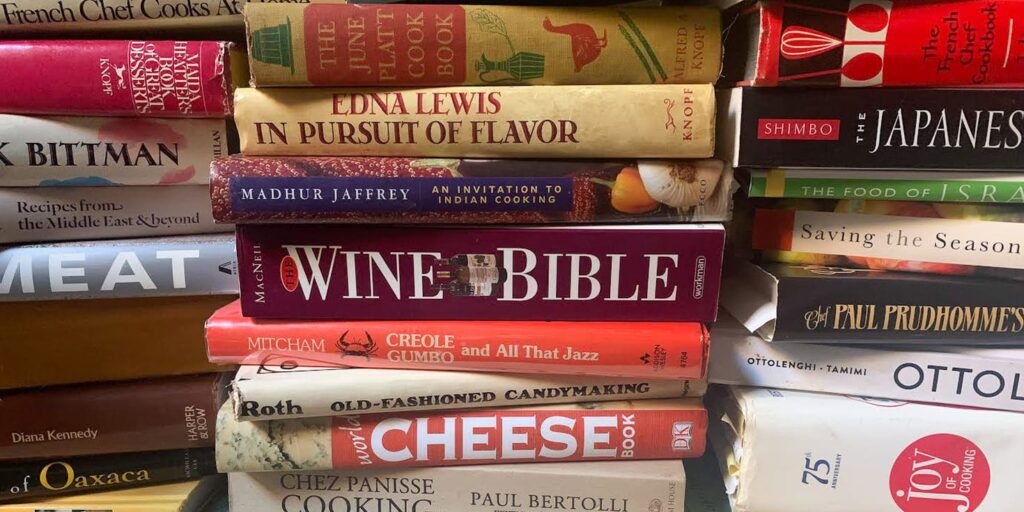 Julie and Julia – how about Betsy and Andrea!
So, I invite you to look at your bookshelves, kitchen cabinets, drawers and basement bins… How many cookbooks do you have and how often do you use them? These days, it seems like many of us rely on blogs, social media, the Food Network, etc. for recipes and ideas. However, there is something special about using a cookbook in the kitchen. It is that same feeling of calm that I get in a library.
Andrea's book, Health is Wealth, is the cookbook I will be cooking through! If you want to join me and order the book, click here.
I'm going to try my best and make all 94 recipes by the end of next calendar year. Yes, by the end of December 2024 I will have made all 94 recipes. That is a long time but you know what? Life is busy.
If you're doing the math in your head, that's roughly 5-6 recipes a month – seems totally manageable right? 🙂
Nevertheless, we'll have fun with this cookbook. Andrea has a strong variety of recipes, including recipes for every meal time and sections for breakfast, soups, and even desserts. She is also a big fan of eating locally and seasonally so I am going to try my best to follow that advice as well!
It's an ambitious goal, I know, but in this journey, I know I'll learn/re-learn a lot.
I'll experiment with new ingredients.
I'll make dishes different than what my kids and husband and even I are used to.
I'll try out new cooking techniques and processes.
I'll save money by cooking more at home instead of going out to eat.
I'll find new family favorites.
I'll share the experience with friends by hosting dinner parties or making things for potlucks.
I'll blog and share my journey over at The Bee's Knees on Facebook! Join us!
I'll have a boost of adventure and creativity!
Maybe when I finish the last recipe, I will recreate this scene from the movie when Julie finally finishes working through Julia's cookbook with a fancy dinner for her friends where she served pâté de canard en croûte. Probably not but let's keep on dreaming!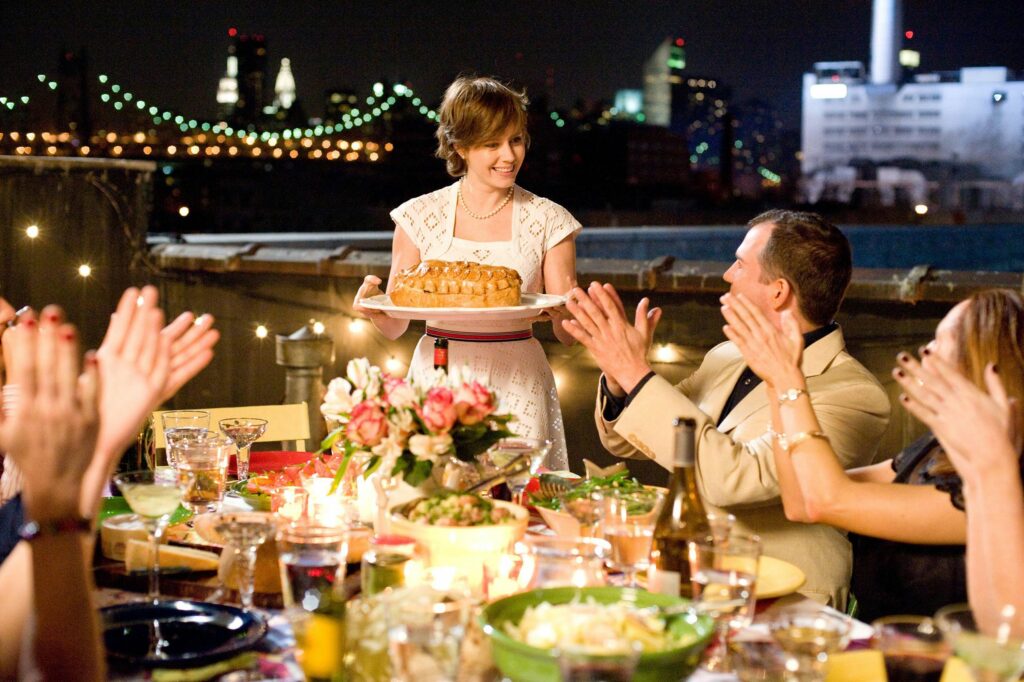 Keeping Track of Cooking Progress
I have created a spreadsheet with each recipe and I plan to keep track of which recipes I make, what our experiences were and whether or not the family liked it or not. I know, this is so nerdy but I love it.
Here's a screenshot of my spreadsheet. 😉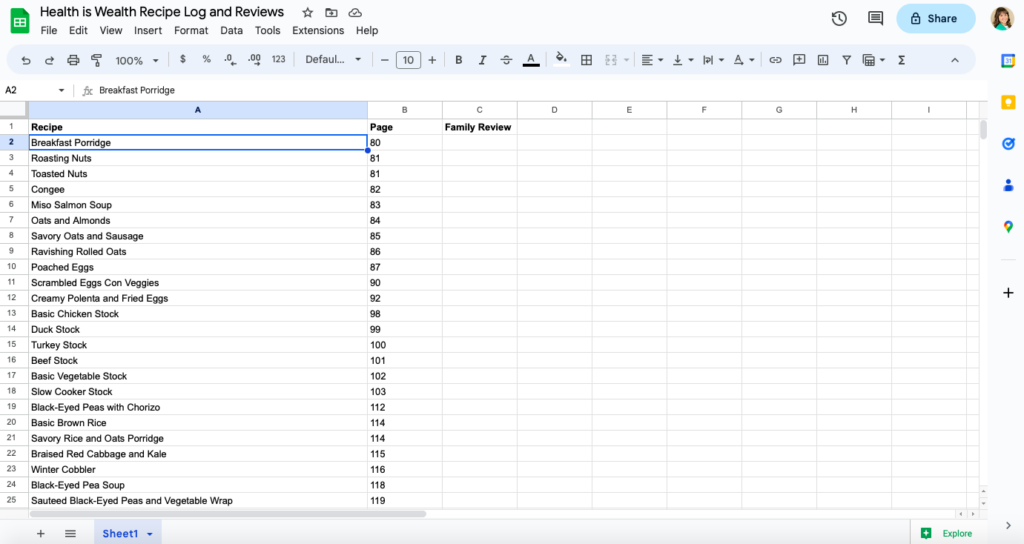 Want to Join in the cookbook fun?
If you're interested in joining the cookbook challenge, DO IT! Comment here and let me know you want to follow along with me. Make it fun for you, whatever that looks like. If you want to cook through a different cookbook, that is fine too. Let me know what cookbook you're cooking through, and I would love to keep up with your progress.
Have you ever tried cooking through a cookbook? Do you have any favorite cookbooks or where do you find new recipes?
Keep up with me elsewhere! You can find me on Instagram, Facebook and here on my Blog. Happy cooking!