Real Food Pumpkin Cinnamon Pancakes
Instead of going out for pancakes, try making these real food pumpkin cinnamon pancakes at home. Make extra so you can store them in the fridge or freezer and pop them in the toaster on busy mornings. Quick, delicious, healthy and they may make the list of foods to eat everyday and will help you keep your mama sanity on school mornings!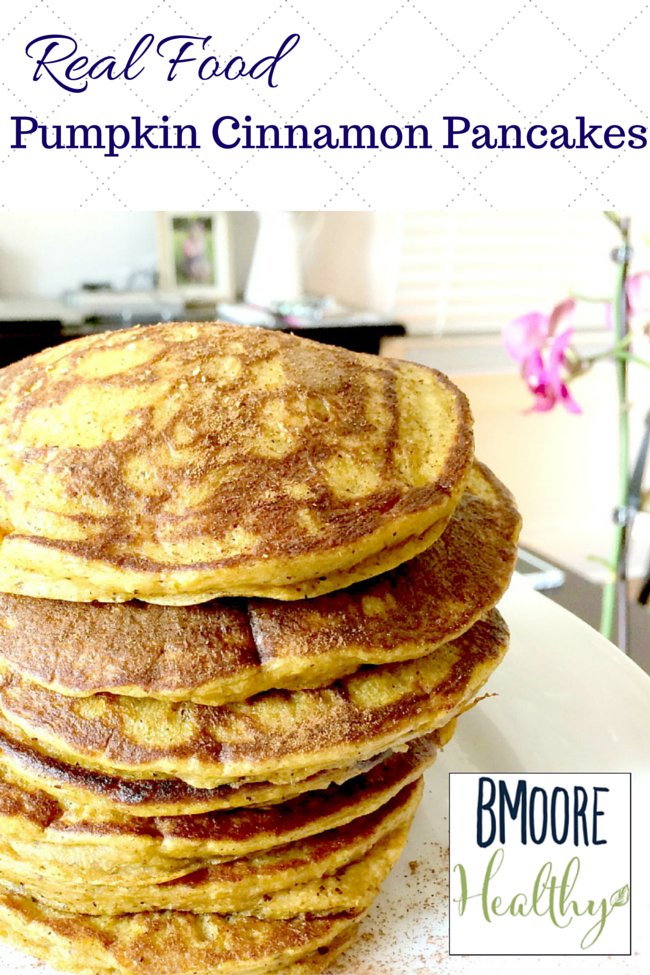 Real Food Pumpkin Cinnamon Pancakes
Author:
Prep time:
Cook time:
Total time:
Serves:
10 small pancakes
Yes, you can have pancakes and not feel guilty at all!
Ingredients
3 eggs
1 cup rolled oats
1 cup quinoa
1 cup canned unsweetened pumpkin puree
1 teaspoon ground cinnamon
1 ripe banana
2 tablespoons ground flaxseed
1 teaspoon vanilla
1 tablespoon real maple syrup
Instructions
In a blender, blend together all of the ingredients. The consistency should be a little runny, similar to "normal" pancake batter. If needed, add a little water or milk of your choice. Warm a frying pan on medium heat and melt a little coconut oil/butter to coat the pan. Scoop out batter 1/4 cup at a time to make each pancake. Top with ground cinnamon, fruit, nuts, real maple syrup, etc. Enjoy!
You don't have to wait until the fall to make these pumpkin pancakes. Pumpkin is a flavor that can be enjoyed all year long. Plus, pumpkin is loaded with vitamins and minerals perfect for you and for your little ones! Don't worry, you don't have a roast a real pumpkin – canned pumpkin is perfect!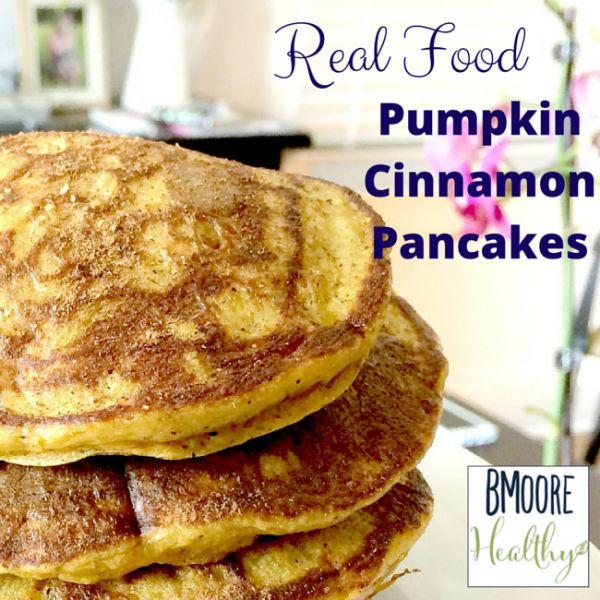 Here is a list of my favorite pancake making supplies:
I love Farmer's Market brand of organic pumpkin. This is something that I always have in my pantry. Get the unsweetened kind and add your own sweeteners.
Real maple syrup is a must. Don't be fooled by Aunt Jemima. Unfortunately, her "syrup" is just corn syrup and artificial color and flavor. Real maple syrup is a natural food, although very sweet so a little goes a long way. Maple syrup nutrition benefits have been linked to lower inflammation and improved management of blood sugar.
Simply Organic ground cinnamon makes it into all of my pancakes. All of them. We are big cinnamon fans in our house. Not only does cinnamon taste amazing and when cooking, make the house smell incredible, it also has many health benefits. These benefits include lowering bad cholesterol.
Organic coconut oil makes the best pancakes. Not only is coconut oil healthy, it taste incredible, especially with sweet breakfast pancakes!
I love my All-Clad frying pan for making pancakes.
Oh, don't forget to use real vanilla not the artificial kind. So much better tasting and better for you too!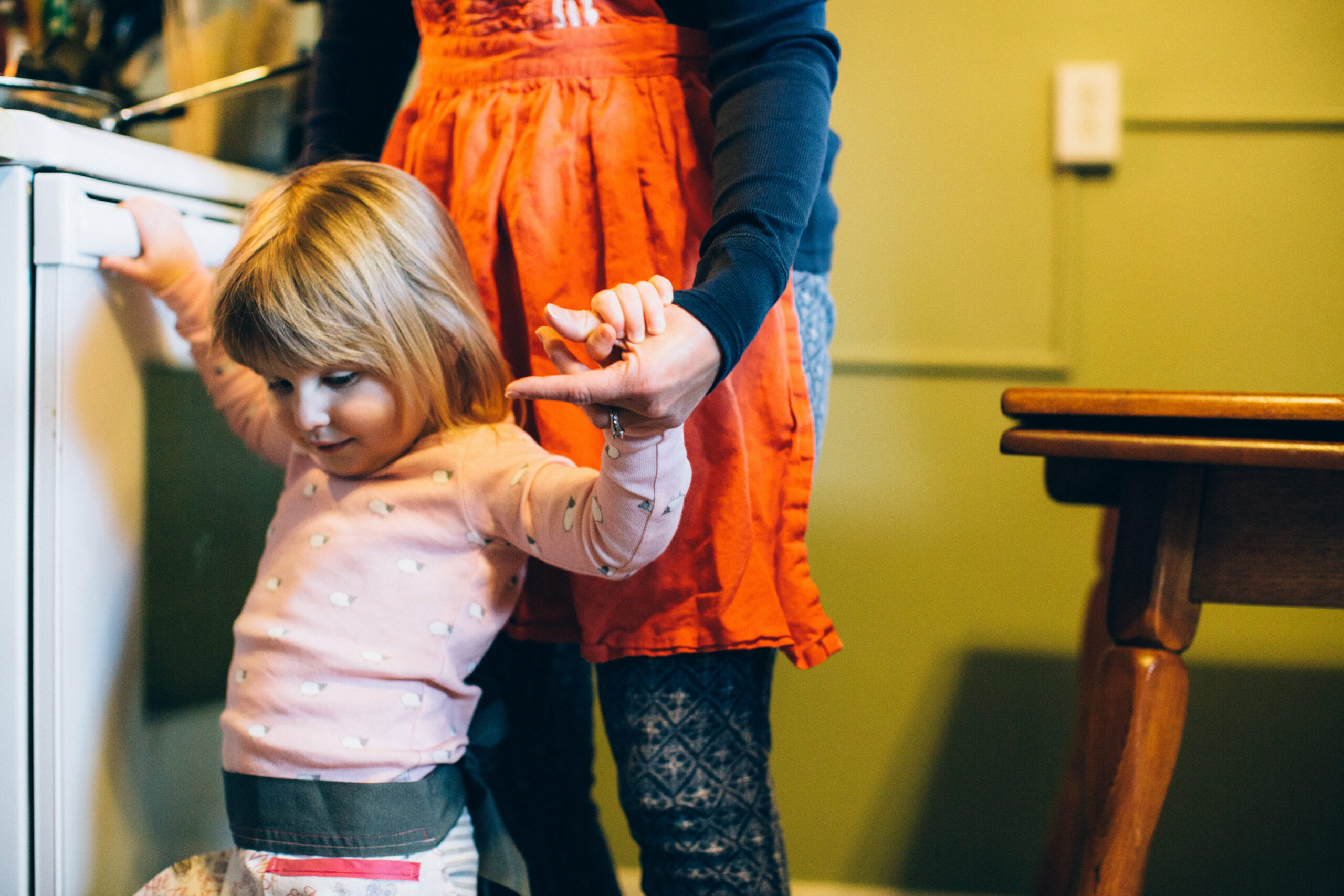 I love to make a really big batch of pancakes and freeze them in groups of 5. That way, I can easily take out a package the night before and put it in the fridge and have breakfast ready to go the next morning. The girls and I each get one and daddy gets 2! I simply pop the pancakes in the toaster to warm them up. This works wonders for us on busy school mornings.
Get creative with the fillings and the toppings. If you don't have pumpkin puree, use leftover sweet potatoes. My girls love them. Sometimes we also add chia seeds for a little crunch. I personally love to up the protein in the morning so I often top my pancake with a smear of peanut or almond butter.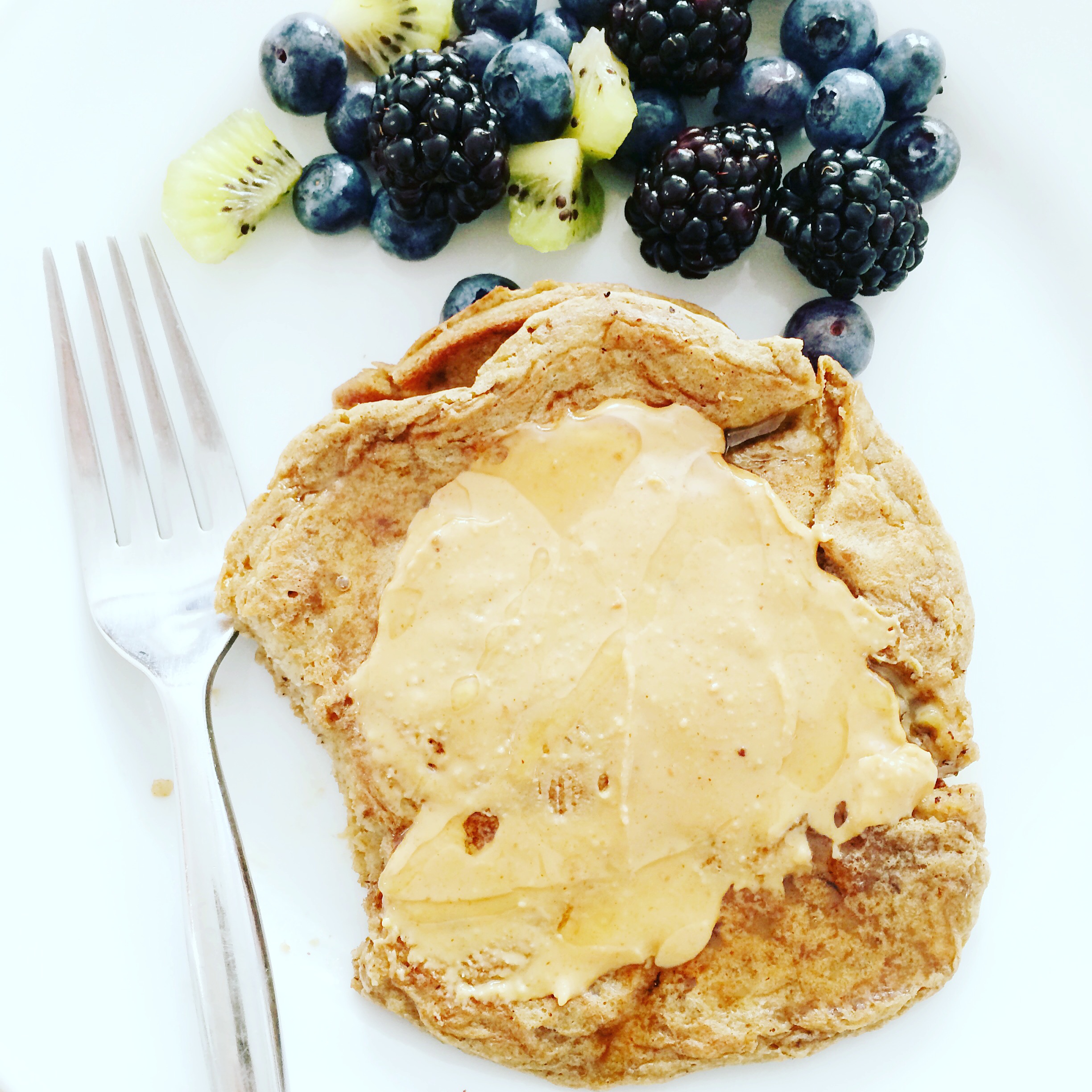 Have fun and get your kids involved! I have found that my girls are much more willing to try new foods and new flavors if they are in the kitchen helping me out. In our house, this mama makes only one meal and I have a "take it or leave it" philosophy. I know that my girls don't like a few foods and that is OK. Even if I know they don't like something, they always get a little on their plate. Never know when they might try it and decide they like it.